[et_pb_section bb_built="1″][et_pb_row][et_pb_column type="4_4″][et_pb_text _builder_version="3.17.6″]
Ridgefield Chiropractic & Wellness Center, LLC
Technology and Diagnostic Equipment
sEMG
Gait Scan & X-Rays
Thermography
Digital Range of Motion
Report of Findings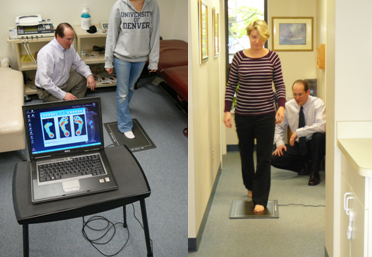 Gait Scan
GaitScan, developed by The Orthotics Group, is state of the art computer hardware and software that enables Dr. Mascetta to assess and analyze foot mechanics. The GaitScan system's innovative pressure plate technology offers 4,096 sensors that record your timing sequences during gait as you walk or run across it. A clear picture of your foot mechanics is captured to determine whether you would benefit from wearing custom made foot orthotics. The orthotics are specifically developed in order to correct any mechanical problems of the foot that were picked up during the GaitScan.
What makes the GaitScan special compared to other scanners is its ability to perform both static and dynamic scans of the foot. What that means, is that it is sensitive enough to perform measurements from a weight bearing or standing position, as well as measuring foot function in a dynamic way, while either walking or running. The ability to scan the foot in motion makes the information provided by a GaitScan far superior to other scanners on the market. At the moment, there are only six GaitScan systems operating in the State of Connecticut.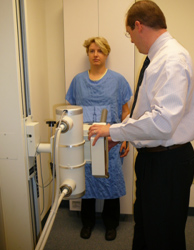 X-ray
We utilize X-rays in the office when needed to evaluate the location of vertebral subluxation complex. It is also important to help us rule out the possibility of pathology in the spine. Some of the more common disorders that are found include degeneration of spinal segments and disc material. If found, the level of degeneration present in the spine may dictate the type of adjusting technique decided upon by the doctor which would provide the best results.
We utilize a high frequency x-ray machine that is much faster and uses less dosage of X-ray as compared to traditional x-ray machines.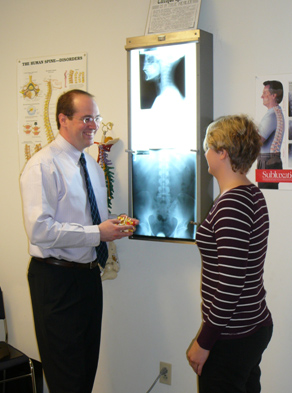 Report of Findings
Dr. Mascetta always spends the time to review the results of any testing he performs in the office. It is very important for the patient to fully understand his/her condition. Dr. Mascetta will make specific recommendations and goals based on these findings.
[/et_pb_text][/et_pb_column][/et_pb_row][/et_pb_section]