Personalized Weight Loss: Tailored Approach for Results
Nutritional consultation offers a personalized approach to weight loss, taking into account an individual's unique needs, preferences, and goals.
Beyond Calories: Balanced Nutrition for Sustainable Eating
Nutritional consultation goes beyond counting calories and focuses on balanced nutrition, ensuring individuals receive necessary nutrients while creating a sustainable eating plan.
Process of Consultation: Assessment, Plan, Support
The process of nutrition consult involves an initial assessment, personalized plan development, and ongoing support from a qualified nutritionist or dietitian.
Benefits of Consultation: Personalized, Healthy, Empowering
Benefits of nutritional consultation include a personalized approach to weight loss, identifying nutritional deficiencies, establishing healthy eating habits, sustainable weight loss results, improved overall health and well-being, and empowerment through education, goal setting, accountability, motivation, and support.
Addressing Challenges: Emotional Eating, Plateaus, Lifestyle Changes
Addresses challenges such as emotional eating, weight loss plateaus, and focuses on creating long-term lifestyle changes for lasting results.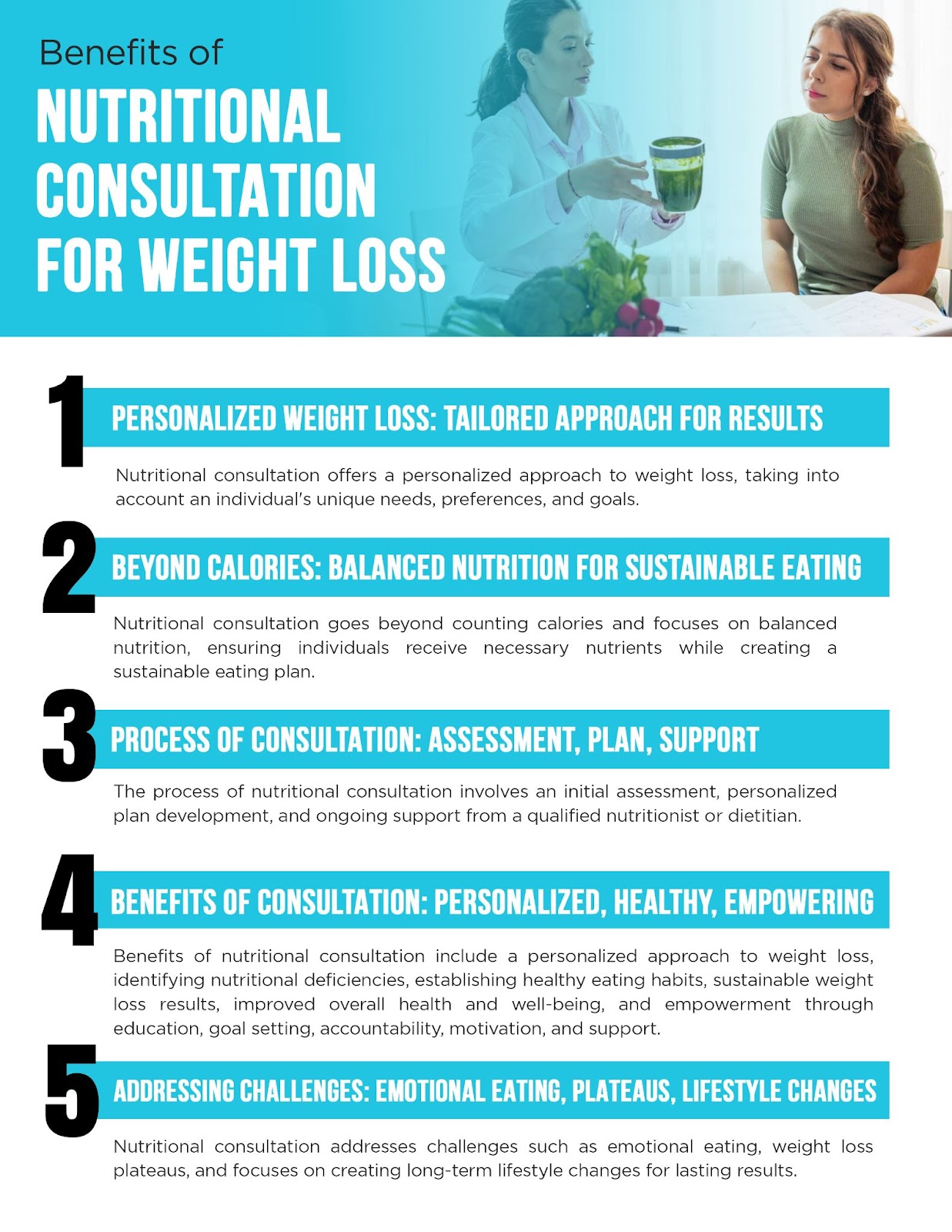 Benefits of Nutritional Consultation for Weight Loss
Offers personalized guidance for sustainable weight loss.

Goes beyond calorie counting

emphasizing balanced nutrition and a sustainable eating plan.

Benefits include identifying nutritional deficiencies

Establishing healthy eating habits.

Sustainable weight loss, improved overall health, and empowerment through education and support.

Addresses challenges like emotional eating and plateaus

focusing on long-term lifestyle changes.